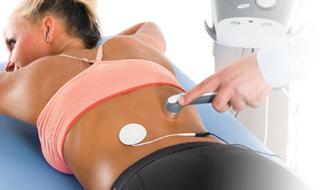 Combination Therapy Units
Used in
combination
, electrotherapy and Therapeutic
ultrasound
work seamlessly to heat and stimulate muscle simultaneously for more rapid healing and better patient outcome. 3B is proud to offer two and  four channel Combination Ultrasound models by
Amrex
,
Chattanooga
and
Mettler combination
units. Multiple stimulation waveforms and dual frequency applicators for therapeutic ultrasound have been included ...
»»»

The Legend Combo combines all the great features of the industry standard Intelect® Legend Stim and Legend Ultrasound into one unit. Available with 2 or 4 channels.
---

For over two decades the clinical rehabilitation community has relied on the name Intelect ® for exceptional clinical performance, quality, ease-of-use and low cost. The Intelect ® Legend XT Combo comes with 2 or 4 channels and with or without cart.
---

The Intelect TranSport® line of portable therapy products is equally as adept on the go as it is in the clinic. Each unit's unique design allows it be to be used for tabletop, wall mount, therapy cart or mobile use. Its lightweight design, ...
Item: W49918
---

The US/50 Combo offers an affordable option for practitioners requiring combination therapy. Available with two different sound heads.
---

The SynchroSonic US/54 is a versatile combination unit that provides muscle stimulation with four pad application and therapeutic ultrasound. Available with two different sound heads.
---

The Amrex SynchroSonic US/752 offers the benefits of therapeutic ultrasound and high volt muscle stimulation for muscle rehabilitation. Available with two different sound heads.
---
Three widely used therapeutic modalities are provided by the U/HVG50: low voltage galvanic (dc) stimulation, high volt stimulation and ultrasound. Available with two different sound head sizes.
---

Sonicator Plus 930 2 Channel Combo

The Mettler Sonicator Plus 930 features a 1 and 3 MHz, 5 cm2 applicator for therapeutic ultrasound and the three most popular stimulation waveforms for the busy practice: Interferential, Premodulated and Medium Frequency ...
Item: W50961
---

The microprocessor-controlled Mettler Sonicator Plus 940 is a four channel combination unit. It combines 1 and 3 MHz ultrasound with eight treatment waveforms: Interferential, Premodulated, Medium Frequency (Russian), EMS, High Volt, TENS, Microcurrent ...
Item: W50962
---

The new Mettler Sonicator® Plus 920 is a two-channel combination unit both a membrane panel and a touch-sensitive screen to allow clinicians to quickly set up treatments. The Sonicator Plus 920 offers 1 and 3 MHz ultrasound using a dual frequency ...
Item: W50993
---

The UltraTENS combines the 2 most proven modalities for pain relief into one device: Deep heat from a 1 MHz ultrasound and TENS with 14 preset functions. This device is simple to operate. Both pain relieving modalities can be used simultaneously.
Item: W59946
---

An All-In-One E-Stim and Ultrasound Combo Device that provides electrotherapy and ultrasound simultaneously through the sound head.

The microprocessor controlled ComboCare is a professional two-channel electrotherapy device that combines clinical ...
Item: W59947
---