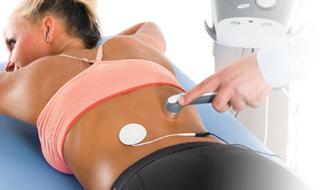 Iontophoresis
Iontophoresis is a technique using a small electric charge to deliver a medicine or other chemical through the skin. This process is a non-invasive method of propelling high concentrations of a charged substance, normally a medication or bioactive agent, transdermally by repulsive electromotive force using a small electrical charge applied to an iontophoretic chamber containing a similarly charged ...
»»»

The ActivaDose Iontophoresis unit is used for the active transdermal delivery of soluble drug ions using direct current (DC) to move charged drug ions into the skin. Iontophoresis is an alternative to hypodermic injections.

Specifications:
...
Item: W64153
---
Ionto480 Buffered Iontophoresis Electrode Treatment Kit uses a scientific blend of materials for optimum comfort during treatment. Available in four sizes with 10 kits per box.
---

80mA Electrodes. 12 Treatments per box.

Ionto Electrodes come in four sizes. The Silver-Silver Chloride electrodes feature a convenient EZ-Fill drug window and a large adhesive area
to eliminate pad movement. IONTO+plus buffered iontophoretic ...
Item: W56065
---

Comfort/ IO Iontophoresis Electrodes feature only the best materials and a advanced manufacturing process. Available in 4 sizes with 12 kits per box.
---
ActivaDose Iontophoresis Delivery Unit replacement lead- wires.
Item: W64153LW
---

Trivarion's unique design makes it the most conforming Iontophoresis delivery electrode available. Coupled with its ability to deliver ions with a precise pH balance up to 80 mA*min. Available in 3 sizes.
---

The ActivaPatch® is a technologically advanced, self-contained iontophoretic drug delivery system designed for the delivery of negatively-charged ionic solutions.

The unique ActivaPatch® platform includes the active drug containment chamber ...
Item: W64156
---