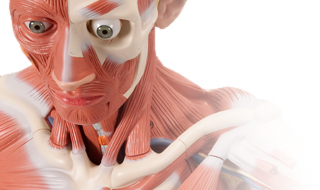 Human Anatomy
Human anatomy models, charts, posters and software products provide the perfect vehicle for your anatomy studies or teaching. 3B Scientific anatomical models are of medical school quality and include human muscle models, individual bone and joint models, spine and vertebrae models, human skulls, full-size and miniature skeletons, dissectible human torso models, brain models, models of the teeth, jaw ...
»»»

Skull model with face musculature
The face and mastication muscles are illustrated on the right half of this skull model. The face musculature can easily and precisely be differentiated from the mastication musculature by using two colours. On the ...
Item: A300 [1013283]
---

This model shows an eye enlarged by a factor of 5, which ma be used for patient education. The easy to use switchable and didactilcally simplified representations of the retina and lens make it possible to explain clearly to the patient the typical changes ...
Item: F17 [1017230]
---

This high quality Segment Lung Model shows the lungs with representation of the bronchial tree close to the heart, trachea, oesophagus and aorta.

The Lung is detachable into two lobes and single segments. The segments are colour coded and their ...
Item: G70 [1008494]
---

This 3-part model is a natural cast of a male, bone pelvis. It shows all anatomical structures in detail: both hip bones, pubic symphisis, sacrum and coccyx as well as the fifth lumbar vertebra with intervertebral disc. A median section has been placed ...
Item: H21/2 [1013281]
---

This 7 part model of the male pelvis shows in accurate detail how the bones, ligaments, vessels and nerves as well as the pelvic floor muscles and the external sex organs are connected to each other. It shows the whole pelvis, through which a median ...
Item: H21/3 [1013282]
---

This unique gynecological training model is ideal for demonstration purposes and for realistic insertion of female barrier contraceptive devices, which are placed in the vaginal/cervical area. These include the femidom, FemCap (cervical cap), vaginal ...
Item: P53 [1013705]
---

The highly detailed Animal Cell STICKYchart™ shows the form and structure of a typical animal cell as viewed from an electron microscope. For the purpose of better illustration, all important organelles are displayed in vibrant color.

3B ...
Item: V1R04S
---

The Plant Cell STICKYchart™ presents the structure of a typical plant cell with cytoplasm and cell organelles, as viewed from an electron microscope. For purposes of better illustration, all important organelles are displayed in color.

3B ...
Item: V1R05S
---