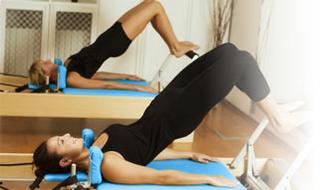 Pilates Reformer
The Reformer is the most popular piece of Pilate's equipment. There are many styles of reformers. Some reformers are wood and some are metal. In our Reformer section you will find our new
FSC certified wood Reformer
, this model is made out of Eucalyptus for the environmentally conscience. We also carry the
Aero-Pilates
line from Stamina Products.

The reformer platform allows you to utilize the end section of the reformer as a stable area from which you can push from, stand, etc. It creates additional exercises on the reformer machine. The platform fits easily into the slot and can be easily removed ...
Item: W15138 [1005023]
---

Add all the benefits of cardiovascular fitness to your AeroPilates workout with the AeroPilates with Free-Form Cardio Rebounder. In fact, with the AeroPilates reformer, you will reach and maintain your target heart rate as effectively as with a treadmill ...
Item: W63301
---

Stamina® AeroPilates ® Premier Studio gives you all the benefits of a studio Pilates workout at home, and adds a cardiovascular workout, too. You'll see a strong, streamlined, flexible body that only Pilates can achieve. The patented Free-Form Cardio ...
Item: W63302
---

The Stamina® AeroPilates® Pro XP556 takes the traditional Pilates workout to the next level. You achieve that long, lean body that only Pilates can give plus you improve your cardiovascular fitness--all with one machine. And the Pro XP 556 gives you ...
Item: W63304
---

Stamina® AeroPilates® Pro XP557 is for the person who takes their home Pilates reformer workout seriously. The Pro XP557 was made four inches longer than other reformers to accommodate all heights throughout all Pilates exercises. Four springs - each ...
Item: W63305
---