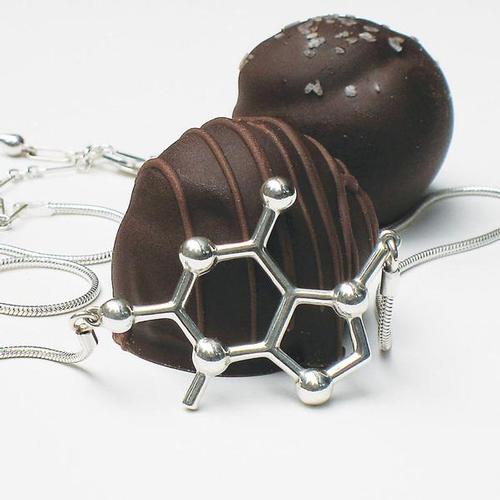 Theobromine (Chocolate) Molecular Jewelry - Necklace
Ah, chocolate.  Despite its naturally bitter taste, we love it dearly.  Theobromine is a mild stimulant related to caffeine that makes up about 2% of cacao beans.  This molecule is thought to elevate mood. 

Now you can give chocolate in a whole new way, give a gift that combines art with science!  Sophisticated and geeky! Each piece of molecular jewelry includes an informational card describing the science that inspired the piece. 

Sterling silver pendants are approximately 1 1/2" wide and attached to a 16-18" sterling silver, snake chain with lobster clasp.  Made in the USA and packaged in an attractive recycled gift box complete with a ribbon. You can't go wrong with the geek gift of molecular jewelry!

The Periodic Table Playing Cards are a double deck which include all 118 elements. They are the perfect geek gift for the chemist geek in your life! Each card includes the name of the element in English, French and Spanish, the atomic number ...
Item: U49750P
---

The Under the Microscope Collection combines art and science in one stunning piece. Sophisticated and geeky! Hand-crafted in sterling silver and showcasing an actual microscopic photograph of the scientific substance, these pieces are sure to start ...
Item: W99596C
Back