Gift Card From the Heart - $50.00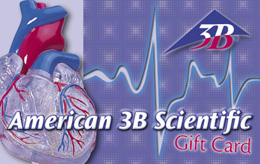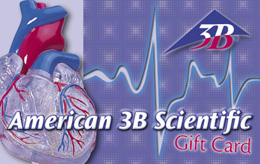 Get them what they've always wanted. (Even if you don't know what it is.) Our 3B Gift Cards are sure to please! Help make the world a happier place, one person at a time.

Gift Cards from 3B Scientific are great for PTA's, schools, teachers' appreciation day, a thank you to your doctor or health practitioner, graduation gifts, med school students, doctors, nurses and anyone with an interest the sciences. Reward educators, colleagues, clients and employees with the gift of unparalleled selection.


Gift Cards are hassle free and will save you time and money.
We'll mail them for free to the continental US address(es) of your choice.

Available in $50, $100, $250 and $500 amounts.
Card has no expiration date.
Each comes in attractive Gift Card envelope.
American 3B Scientific Gift Cards are redeemable for thousands of items and can be used on any American 3B Scientific order – website, phone, fax, mail order, and in person.
When ordering online, enter the recipients address in the "ship to" field if you want it sent direct by 3B Scientific. If you want to give the gift card personally do not use the ship to field. If more than one recipient, enter additional ship to addresses in "comments" section along with any special instructions.
Product Data
Item No.

XGC10501A

Brand

3B Scientific
Secure online payment with SSL
Expert advice
Financing available
Easy returns & exchanges
International shipping available
Service hotline:
1-888-326-6335
---